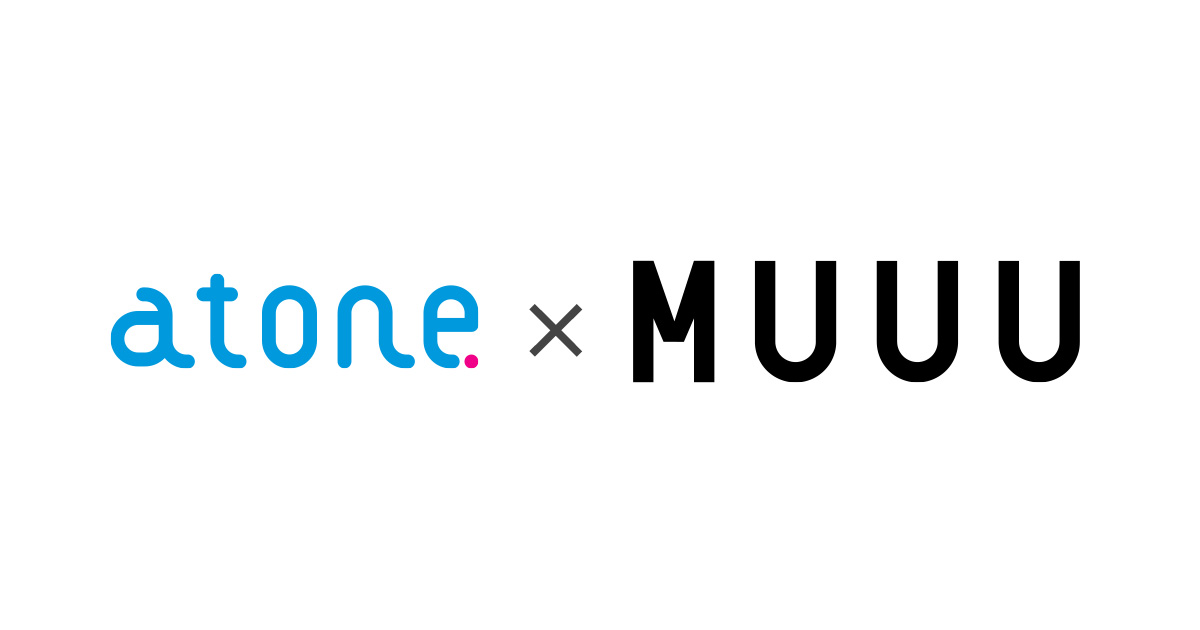 Net Protections Inc. (headquartered in Chiyoda-ku, Tokyo; CEO: Shin Shibata; "Net Protections") has signed a contract with P2C Studio Co., Ltd. (Group company of UUUM / headquartered in Minato-ku, Tokyo; CEO: Takayuki Shigemoto; "P2C Studio"), which handles influencer and brand goods. The online store MUUU (https://muuu.com/), and each of its influencers' brand stores, have started offering Net Protections' BNPL service, atone from the end of March 2022.​ ​
Background of the Partnership
P2C Studio had adopted convenience store payments, but because it was prepaid, the operational load to confirm payments and secure inventory while being paid was problematic. In accordance with the system change of the e-commerce website, it was considered switching to a BNPL service that also supports convenience store payments to reduce the operational load.
atone is a BNPL service that supports not only convenience store payments, but also direct debit and LINE Pay. Users can use it as many times as they like, and payment is made in a monthly sum the following month. The interface is adapted for smartphones and allows users to easily check their usage balance whenever they need.
In addition, it was highly rated not only for goods sales, but also for online sales of digital content, including video and music. This as well as its multifunctionality at payment at physical stores led to its adoption.
P2C Studio expects to create synergy with atone that is suitable for its business model as it expands e-commerce sales and brand planning for various influencers. ​ ​
About atone
atone is a cardless BNPL (Buy Now Pay Later) service well-known for its simplicity and clarity. With its unique point reward system, atone stores can reach 4.9 million non-credit card users (※1) and expect the increase of new customer acquisition, LTV, and repeat purchase rate. atone can be used in various fields such as e-commerce, digital content, and even physical stores. Customers can consolidate their orders into a single invoice in the month and pay in the following month. Also, 0.5% of the purchase is rewarded as NP points and can be used for discounts anytime. For the first-time users, it is possible to pay with atone immediately with a simple sign-up, and users can easily check the usage status and purchase history on the app.
For further information regarding atone:https://atone.be/

※1) Source: Company data (the number of the registered NP members as of September 2021)
About Net Protections, Inc.
Net Protections is a pioneer company in BNPL payment services in Japan and leading the market with top market share(※2). In 2002, Net Protections (NP) released NP Atobarai, Buy Now Pay Later (BNPL) payment service that guarantees risk free payment for merchants in Japan for the first time. For the year ended March 31, 2021, NP Atobarai's annual transaction volume has kept increasing 116% as compared to the previous fiscal year. NP Atobarai is used by numerous enterprises with over 15.8 million unique users in Japan(※3) and has processed more than 280 million transactions to date. In 2011, NP introduced NP Kakebarai, BtoB BNPL payment service that simplifies BtoB transaction process and guarantees risk free with its accumulated know-how. NP Kakebarai has grown 127% yearly and plays a role as the dominant BtoB payment service provider in Japan. In 2017, Net Protections released atone, BtoC BNPL payment service with membership benefits that offers better shopping experience. In 2018, NP introduced AFTEE, BtoC BNPL payment service in Taiwan. NP has accumulated transaction data since its first service launched, which enables the pursuit of new opportunities in the field of big data analysis and continues to pursue long-term business growth and organizational development to fulfill the mission to "Create New Standard."
【Company Name】
Net Protections, Inc.
(Net Protections Holdings, Inc.[Code: 7383, Prime Market of Tokyo Stock Exchange] Group)
【CEO】
Shin Shibata
【Website】
https://corp.netprotections.com/
【Business Outline】
BtoC e-commerce BNPL (Buy Now Pay Later) Service, NP Atobarai
BtoB BNPL Service, NP Kakebarai
BtoC BNPL Service, NP Atobarai air for individual day-to-day operations
BtoC BNPL Service with membership benefits, atone
BtoC BNPL Service in Taiwan, AFTEE
Point Reward System, NP Point Club
【Founded】
January, 2000
【Capital】
JPY 100 million
【Headquarter】
SUMITOMO FUDOSAN KOJIMACHI FIRST BUILDING 5F, 4-2-6 Kojimachi, Chiyoda-ku, Tokyo 102-0083 Japan

※2)Calculated based on the estimated size of BNPL market in Japan of JPY882 billion in FY2020 and the aggregate of GMV of NP Atobarai and atone in FY2020 of JPY360 billion. The estimated size of BNPL market in Japan is provided from Yano Research Institute "Online Payment/Settlement Service Providers 2021"
※3)The number of individual unique users of NP Atobarai based on the matching of duplicative names and phone numbers during FY3/2021 (April 1, 2020 to March 31, 2021).
Overview of P2C Studio​
With "Persona branding and crafting" as its goal, P2C Studio is a product company that sees people as the essential and supports them in crafting and sales methods, including for goods, branding, and digital content.
 【Company Name】
 P2C Studio Co., Ltd.
【CEO】
Takayuki Shigemoto
【URL】
https://p2cstudio.com/
【Business Outline】
P2C (Person to Consumer), original goods, licenses, e-commerce 
【Founded】
June 1, 2021
【Headquarter】
Midtown Tower 28F, 9-7-1 Akasaka, Minato-ku, Tokyo 107-6228 Japan
Contact
Direct any inquiries from media regarding this release to
Representative :Natsuki Nomoto
TEL  :+81-3-5459-5490
MAIL : netprotections@materialpr.jp

Direct any inquiries from businesses and individuals regarding this release to
Net Protections PR
MAIL : pr@netprotections.co.jp
Related News