Basic Policy
We are committed to making a sustainable contribution to achieving the distortion-free society by confronting friction and inefficiency in the services we provide, in our relationships with customers and partners, and in the creation of our organization. To this end, we work with sincere and change-oriented team members and support their career growth to have long-term perspetives. We have also built an organization with no hierarchy, so each team member can consider their role independently and collaborate with others flexibly. This environment maximizes the energy of each team member and is our business driving force.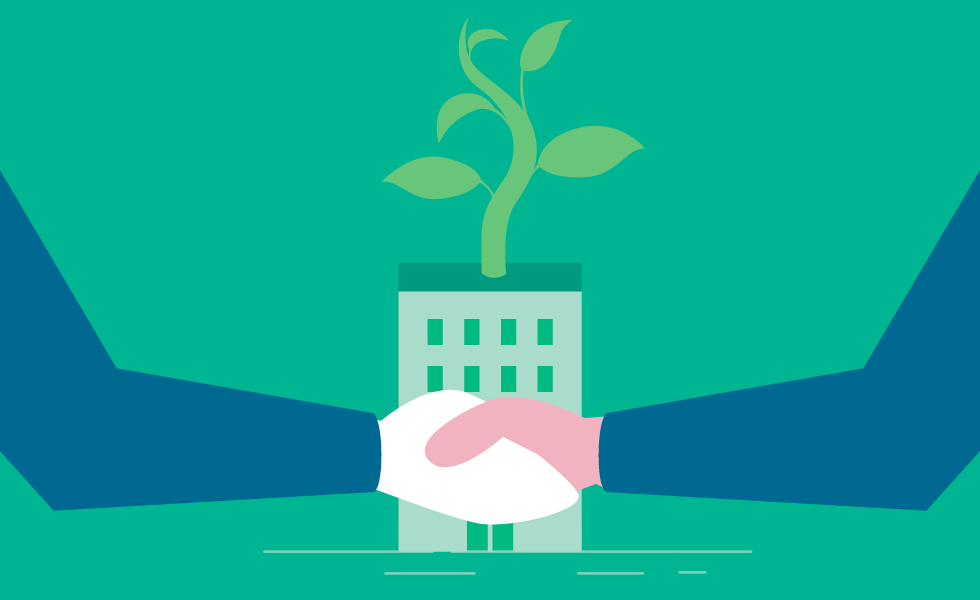 Contribution to local communities and society
Together with our partners, we are committed to regional development through a variety of corporate activities and contribute to the realization of sustainable regions.
Recruitment and Career Growth Support
We believe that the best way to maximize the motivation of each team member and the business performance of the Group is for each team member to achieve self-fulfillment in accordance with his/her personal characteristics and wishes through his/her work. Based on a teal organization that realizes "autonomy, decentralization, and collaboration," we will continue to support the career growth of our team members who will CREATE NEW STANDARDS.
Autonomous, Decentralized, Collaborative Teal Organization
In order to realize the long-term growth and well-being of each team member and achieve high performance, we promote the fostering of psychological safety and mutual growth support. In addition, by not defining each individual's role by department or position, we prevent the organization from becoming cloistered while all team members flexibly make decisions and promote business with a long-term perspective.
*Teal organization: By transferring authority and responsibility for decision-making from managers to each team member, the concept of roles such as manager and leader, supervisor and subordinate, is eliminated, and the organization acts in harmony to achieve organizational objectives
Creating an Inclusive Environment that Brings out the Potential of All
We are committed to creating an inclusive environment that draws out the potential of each individual for self-fulfillment and contribution to society, regardless of nationality, gender, age, values, disabilities, or lifestyle differences.
Contribute to Business and Market Expansion
Growth support for ventures and startups
Ventures and startups can focus on their core business by outsourcing the troublesome billing and collection work.
Contribution to the development of the e-commerce and digital content markets
By providing a simple and secure BNPL service that does not require a credit card number, and by preventing fraud and abuse, we allow customers who have avoided online shopping to shop online with peace of mind.
(For more information on each service, please visit each website (click here for NP Atobarai, here for atone)
Resolving labor shortage
We promote digital transformation by undertaking billing and collection work in the food and beverage industry, where the delivery person is responsible for collecting money in cash, and in the housekeeping and remodeling industry, where cash is often used at work sites.
(For more information on the services, please visit each website (click here for NP Atobarai air, here for NP kakebarai)
Second-year new graduate: NP Atobarai air
NP Atobarai air is a BtoC BNPL service for on-site services. For more information, click here.
Fourth-year new graduate: Atonegime
Atonegime is a Pay What You Want (PWYW) service that buyers pay the desired price for a particular product, commodity, or service for their experience. For more information, click here.
Fouth-year new graduate: AFTEE
AFTEE is a BNPL service that localized the assets and knowledge of the NP Atobarai to Taiwan. For more information, click here.
Non-Financial Information