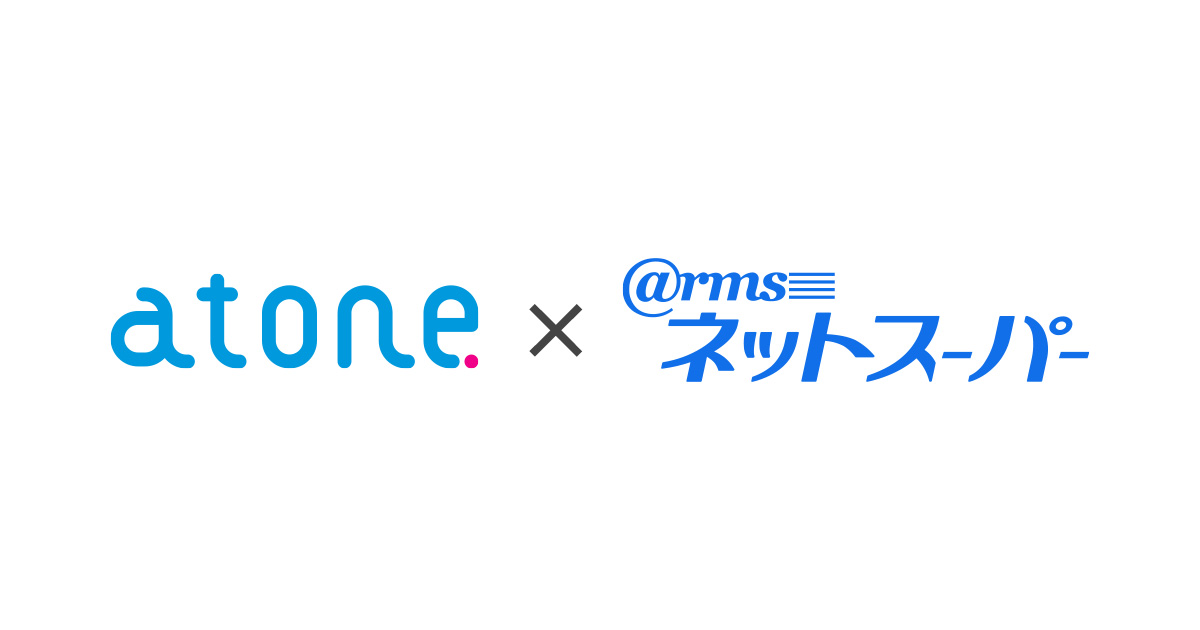 Cyberlinks Co., Ltd. (headquartered in Wakayama City, Wakayama Prefecture; President and CEO: Tsuneo Murakami; "Cyberlinks") and Net Protections, Inc. (headquartered in Chiyoda-ku, Tokyo; CEO: Shin Shibata; "Net Protections") has announced the system connection of Cyberlinks' cloud service, @rms Net Supermarket', and Net Protections' payment platform, atone. With this connection, grocery stores using @rms Net Supermarket will be able to use atone.
Background of the System Connection and Advantages of atone
  With the expansion of the demographics of online supermarket shoppers spurred by COVID-19, many grocery stores are confronted with issues, such as increases in workload due to cash-on-delivery (COD) and direct debit payments, which can hurt delivery efficiency. atone is a new Buy Now Pay Later (BNPL) service that allows customers to shop at online supermarkets without using a credit card.
1. Eliminating delivery inefficiency caused by COD payments
 An online supermarket is a business with variable expenses - increased delivery costs that come with increased sales - and COD payments collected by deliverers further increase the delivery workload. atone allows customers to consolidate all the purchases and pay later, enabling non-face-to-face delivery, such as unattended delivery, which has become increasingly demanded during the pandemic, achieving delivery efficiency equivalent to that of a purchase by credit card.
2. Reducing the operational burden of direct debit and providing a more diverse payment method
 In many cases, the user of an online supermarket, such as an online grocery store, is responsible for the administrative processing of direct debit, and various tasks such as collection of application documents, coordination with financial institutions, and reminders for failed withdrawals are burdensome for the user.  atone supports not only direct debit, but also convenience store payment, Pay-easy (ATM transfer), etc. It takes on all related administrative tasks and guarantees against the risk of non-payment.
3. Helping new customer acquisition
 With its point reward program, atone stores can approach 4.9 million (*1) non-credit card users and expect the increase of new customer acquisition.
*1) The number of the registered NP members as of September 2021 (excluding canceled memberships)


4. Contributing to improved customer convenience
 atone users can consolidate all the purchases in the month and pay in the following month, which is convenient for regular shopping at online supermarkets. It can be used immediately after the simple sign-up, and usage status can be checked anytime via the app. In addition, customers receive 0.5% back in points, which encourages customers to repeat purchase.  Also, atone is available for real-time authorization, which was difficult with conventional BNPL services, and same-day delivery is also possible.
To learn more about atone, visit:https://atone.be/
@rms Net Supermarket Overview
@rms Net Supermarket provides a "profitable" system that thoroughly pursues "sales expansion" and "operational efficiency" based on successful case examples.
It delivers a neighborhood store business model, helping each grocery store establish a market share in the local area while reducing delivery costs, and supports stable operation of the online supermarket business, which is often considered difficult to turn a profit. @rms Net Supermarket provides continuous upgrades, which only a cloud service can do, and regularly incorporates user requests and additional functions, providing users with the latest features at all times.
To learn more about @rms Netsuper, visit:https://www.cyberlinks-arms.com/service/supermarket/
About Net Protections, Inc.
Net Protections is a pioneer company in BNPL payment services in Japan and leading the market with top market share(※2). In 2002, Net Protections (NP) released NP Atobarai, Buy Now Pay Later (BNPL) payment service that guarantees risk free payment for merchants in Japan for the first time. For the year ended March 31, 2021, NP Atobarai's annual transaction volume has kept increasing 116% as compared to the previous fiscal year. NP Atobarai is used by numerous enterprises with over 15.8 million unique users in Japan(※3) and has processed more than 280 million transactions to date. In 2011, NP introduced NP Kakebarai, BtoB BNPL payment service that simplifies BtoB transaction process and guarantees risk free with its accumulated know-how. NP Kakebarai has grown 127% yearly and plays a role as the dominant BtoB payment service provider in Japan. In 2017, Net Protections released atone, BtoC BNPL payment service with membership benefits that offers better shopping experience. In 2018, NP introduced AFTEE, BtoC BNPL payment service in Taiwan. NP has accumulated transaction data since its first service launched, which enables the pursuit of new opportunities in the field of big data analysis and continues to pursue long-term business growth and organizational development to fulfill the mission to "Create New Standard."
【Company Name】
Net Protections, Inc.
(Net Protections Holdings, Inc.[Code: 7383, Prime Market of Tokyo Stock Exchange] Group)
【CEO】
Shin Shibata
【Website】
https://corp.netprotections.com/
【Business Outline】
BtoC e-commerce BNPL (Buy Now Pay Later) Service, NP Atobarai
BtoB BNPL Service, NP Kakebarai
BtoC BNPL Service, NP Atobarai air for individual day-to-day operations
BtoC BNPL Service with membership benefits, atone
BtoC BNPL Service in Taiwan, AFTEE
Point Reward System, NP Point Club
【Founded】
January, 2000
【Capital】
JPY 100 million
【Headquarter】
SUMITOMO FUDOSAN KOJIMACHI FIRST BUILDING 5F, 4-2-6 Kojimachi, Chiyoda-ku, Tokyo 102-0083 Japan

※2)Calculated based on the estimated size of BNPL market in Japan of JPY882 billion in FY2020 and the aggregate of GMV of NP Atobarai and atone in FY2020 of JPY360 billion. The estimated size of BNPL market in Japan is provided from Yano Research Institute "Online Payment/Settlement Service Providers 2021"
※3)The number of individual unique users of NP Atobarai based on the matching of duplicative names and phone numbers during FY3/2021 (April 1, 2020 to March 31, 2021).
Overview of Cyberlinks Co., Ltd.
【Company Name】
 Cyberlinks Co., Ltd. [Code: 3683, Prime Market of Tokyo Stock Exchange]
【CEO】
 Tsuneo Murakami
【URL】
https://www.cyber-l.co.jp/
【Business Outline】
Mission-critical cloud services for food retailers
EDI business support services for the retail industry
Shelf allocation management system
Product image database service
【Founded】
May, 1964
​
​
【Headquarter】
849-3 Kimiidera, Wakayama 641-0012
Contact
■Net Protections, Inc.
Direct any inquiries from media regarding this release to:
Representative:Natsuki Nomoto
TEL:+81-3-5459-5490
MAIL : netprotections@materialpr.jp

Direct any inquiries from businesses and individuals regarding this release to:
Net Protections PR
MAIL : pr@netprotections.co.jp
■Cyberlinks Co., Ltd.
Direct any inquiries regarding services to:
Retail business department
​https://www.cyberlinks-arms.com/enquiry/

Direct any other inquiries to:
General management department financial planning teamhttps://www.cyber-l.co.jp/inquiry/
Related News